Life as a Driver
Date: Wednesday, March 21 @ 15:46:55 CET
Topic: Trucking News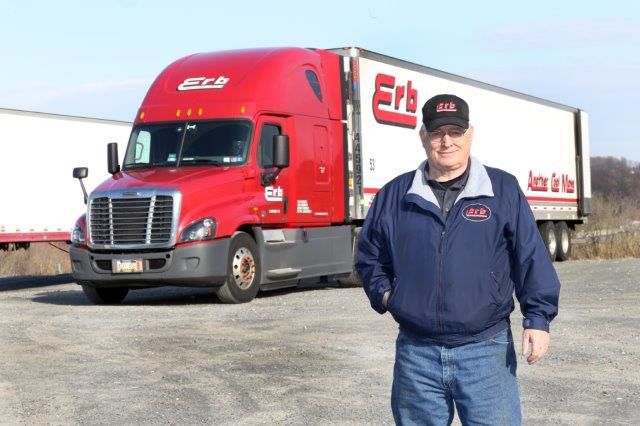 In previous stories we've looked at how to become a truck driver. To recap you need a CDL license available through a school or through a trucking company which operates their own school. Research carefully as Pennsylvania schools are not licensed or regulated so consider those that offer national accreditation or Professional Truck Driver Institute (PTDI) Certification. For more information visit Professional Truck Driving Institute. You'll receive a combination of classroom/lab hours and behind-the-wheel instruction.
But what's it like to BE a driver?
Meet Bill Schuler who has worked for Erb Transport in Elverson, PA, since August 2011. This isn't Bill's first stint behind the wheel. His previous driving was for his produce business, either hauling his own produce or picking up at the Baltimore docks to sell at farmers' markets. After closing his business, Schuler wasn't ready to retire and, with his he CDL license already in hand, was hired by Erb Transport.
Erb Transport is Canadian-based and with most loads going to Canada, this is the start of every run Schuler makes. From there he'll pick up another load and either head back to the U.S. or elsewhere in Canada. A third load will follow and at that point he usually heads home. Normally he's on the road anywhere from 12 to 14 days and once in a while three weeks.
Not every load is direct or a full trailer. If he's hauling LTL – Less Than Load – meaning each shipment is less than a full truckload, he may stop four to six times in a general area before picking up another shipment and heading to a new destination.
In his first year alone Schuler was in the 48 contiguous states and all 12 Canadian provinces, and a trip out west is usually a two-week run. And his 2015 truck? It has over 400,000 miles on it already. "It's something I enjoy," Schuler says, "but I understand that not all drivers care for it."
In that case Erb Transport works with drivers' preferences for length of time away and distance where possible. As an example the Canadian trips are an option. While many want to go, there is an opportunity to choose as driving to Canada requires additional paperwork and approval to cross the border among other extras. Schuler says, "They're very workable."
How long Schuler is home depends on how long he's been gone. He's usually home one to two days after a one week trip; for a two week or longer run, it's three days off, sometimes four.
Life on the road works just fine for Schuler. Figuring out where the truck stops and rest areas are comes with experience (as well a book that details them). This has become more important with the advent of electronic logs as it is harder to find a place to park as more drivers are stopping when they should.
His cab has all the comforts of home. Seriously. Microwave, grill, refrigerator, double bunk, laptop, heat and air conditioning. Even a TV that has its own antenna in the truck. He takes most of his food with him, not only to cut expenses from eating out, but also to have a healthier diet.
So what's not to like? Schuler as an older driver (he's 66), prefers day driving. His biggest complaint? "Other drivers that try to take advantage such as pulling out in front of you. Trucks carrying 80,000 pounds driving 60 miles per hour can't just stop," he says.
As far as Erb Transport goes, Schuler couldn't be happier. "They're very good to work for, very conscientious. The people are polite and courteous." He feels assured knowing they run excellent and fairly new equipment. His 2015 truck should be replaced with a 2018 soon. His truck is always serviced and ready to go to minimize breakdowns. Any concerns are dealt with quickly.
While Schuler may want to stay closer to home sometime in the future, he has no plans to retire. "I don't know what I'd do if I retired," he says. "I get enjoyment and pleasure from working, but am happy to be home for a couple of days rest in between trips."
Source of article click here : Lancaster Online