If you're planning to drive Interstate 70 through Colorado, you are required by state law to have chains starting Wednesday, Sept. 1.
The law passed in 2019 requires that from Sept. 1 through May 31, all commercial vehicles traveling on I-70 between the Dotsero exit (mile point 133) and the Morrison exit (MP 259) must carry sufficient chains to be in compliance with the Colorado chain law.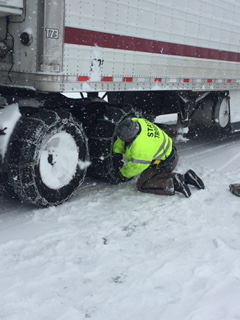 The state's Commercial Motor Vehicle Chain Law requires all large vehicles to affix chains or alternate traction devices (ATDs) to all drive tires (up to four). Even though it has "commercial" in the name, the requirement is based on the gross vehicle weight rating (GVWR) or gross combined weight rating (GCWR) for the vehicle regardless of its use (private or commercial). Chains are not required on trailers.
Penalty for non-compliance with winter driving restrictions: up to $500 fine plus a $79 surcharge. If you are stuck and blocking any traveled portion of the roadway the fine is $1,000 plus a $157 surcharge.
At a minimum, the Colorado Department of Transportation will notify the public of the travel restriction with static and electronic variable message roadway signs. Additionally, CDOT may announce chain requirements on radio channels, the official CDOT travel website (www.cotrip.org), a phone message system, email, text and other automated personal notification systems.
There are several locations where commercial vehicles can stop to chain up. They include:
I-70 Eastbound: mile points 178, 183, 184 (shoulder), 187 (shoulder), 195, 203 (scenic area), 205, 219, 228, 241, 251, 289, 343
I-70 Westbound: mile points 358, 263, 260, 254 (Buffalo Overlook), 228, 223, 221, 219, 213, 197, 179
I-25 Northbound: mile point 157I
-25 Southbound: mile point 172
CDOT maintains a website for details about the state's chain laws for professional drivers.