Port of Vancouver says it will not cancel the program despite truckers threatening a strike
Truck drivers servicing the Port of Vancouver will not be allowed to operate vehicles that are more than 12 years old, forcing around 360 drivers to buy newer vehicles.
Under the Rolling Truck Age Program — set to begin on Sept. 15 — around 20 per cent of the 1,800 trucks that haul containers to and from the ports will no longer be allowed.
This means around 360 drivers will need to buy a new or lightly used truck, which can cost more than $200,000.
"These costly measures will put extreme financial burden on container truckers amidst the highest rates of inflation and unaffordability in a generation," said Gagan Singh, spokesperson for the United Truckers Association. It represents 1,000 container-truck drivers working at Port of Vancouver.
The Rolling Truck Age Program has been on the port's agenda since 2012. In 2015 the port told drivers that the program would go into effect in Feb. 2022.
The program's goal is to reduce emissions.
However, a month before the program was to begin federal Transport Minister Omar Alghabra intervened, asking the port to do more consultation with the drivers. Alghabra was concerned the program would hurt Canada's already frail supply chain.
Last week, the port announced this consultation was complete, some concessions were made, and that the program would go ahead. The port's decision is backed by the B.C. Trucking Association.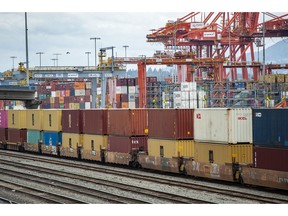 "Forcing truckers with fully paid off assets that meet all Canadian and B.C. standards for commercial operations, in terms of safety, emissions and opacity levels, is punitive against a group that is predominantly South Asian in origin," Singh said.
He also highlighted the Port of Vancouver's increasing export of coal that he said creates far more emissions than his member's trucks.
Singh said that on July 1 his members would take a strike vote that could cripple the port.
Greg Rogge, director of land operations at the port, said UTA members were invited to the consultations but did not participate. He said the port extended the cutoff date from 10 to 12 years and would allow drivers to keep using their outdated trucks while they waited for delivery of a new vehicle.
He said the port had no intention of cancelling the program.