Justin Trudeau's July jet travel also emitted roughly 85.8 tonnes of greenhouse gases into the earth's atmosphere. The yearly Canadian average is 4.1 tonnes
Prime Minister Justin Trudeau's month of feverish jet travel consumed roughly enough fossil fuel to power a good-sized convoy of trucks.
In July, as calculated by the National Post's Bryan Passifiume, there were only 11 days where Trudeau was not travelling aboard the official prime ministerial jet.
In 20 trips — almost all of which were for photo ops or goodwill visits — Trudeau logged 26,238 kilometres of jet travel. This included a 5,500-km flight to spend six hours at the Calgary Stampede, and a 62-km hop between Penticton and Kelowna in order to avoid rush hour traffic.
All of the flying was done aboard a CC-144 Challenger, a Bombardier-made private jet that is the smallest of the RCAF aircraft typically used for VIP transport. For longer journeys, the prime minister will take a converted former airliner known as the CC-150 Polaris.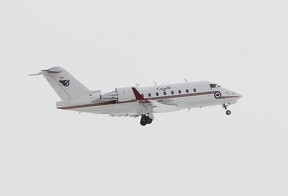 Nevertheless, according to Bombardier's own statistics on average fuel burn, even if these Challenger flights had been operated at maximum fuel efficiency, they would have consumed a minimum of 33,310 litres of Jet A-1 fuel.
That's roughly enough fuel to fill up an entire tanker truck or a large backyard pool. While jet fuel is not interchangeable with gasoline, it can be used to run diesel engines.
According to the Government of Canada's own statistics, the average Canadian semi-truck consumes 39.5 litres of fuel for every 100 km travelled. This means that if Trudeau's 33,000 litres had been pumped into trucks instead of Challenger jets, it could have powered 32 of them on a 2,600-km journey between Regina and Ottawa.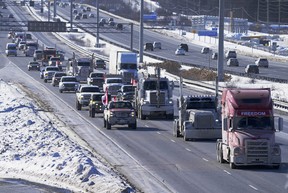 If the trucks only needed to drive between Toronto and Ottawa, meanwhile, that 32,000 litres would power 210 of them.
The prime minister's personal July fuel budget is so large, in fact, that it could power nearly half a day's worth of car ferry travel between Victoria and Vancouver.
The Queen of Oak Bay, a 362-vehicle 1500-passenger ferry, consumes about 6,491 litres of diesel fuel for every roundtrip across the Strait of Georgia. The prime minister's July fuel diet would be enough to get the vessel through 10 crossings total (although it's generally not advisable to run marine diesel engines on jet fuel).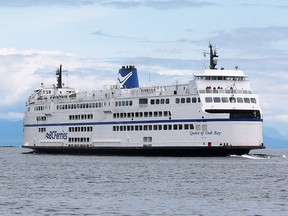 And the distances get particularly vast if we consider what 33,000 litres of regular gasoline could do for a passenger car.
In the notoriously gas-guzzling Hummer H1, 33,310 litres of fuel would be enough to power 11 round-trips between Victoria, B.C., and St. John's, Nfld.
If used in a Honda Civic – Canada's best-selling passenger car – 33,310 litres of gasoline would power the car for 482,753 km.
That's about 10 times around the circumference of the earth. Put another way, it could power a traffic jam's worth of 1,072 Honda Civics driving the four hours and 31 minutes between Toronto and Ottawa.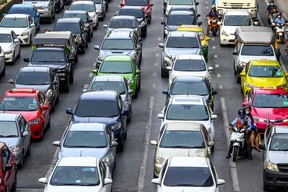 Naturally, Trudeau's high rate of jet travel comes at a substantial price in carbon emissions. Jet fuel is one of the dirtier fossil fuels, emitting 2.5 kg of carbon dioxide for every litre burned (the emissions are heavier than the original fuel because carbon dioxide is composed heavily of oxygen burned in the combustion process).
Trudeau's July jet travel emitted roughly 85.8 tonnes of greenhouse gases into the earth's atmosphere.
For context, the household emissions (including gasoline and fuel oil purchases) for an average Canadian is about 4.1 tonnes per year, according to Statistics Canada. Thus, for the month of July, about every 36 hours Trudeau was burning enough jet fuel to equal the entire yearly carbon emissions for an average Canadian.