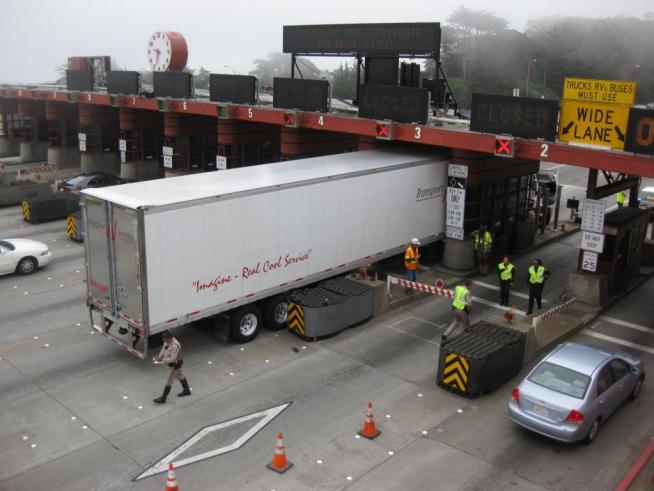 A truck gets stuck in the narrow lane of a Golden Gate Bridge toll lane. July 2, 2013
A truck driver carrying a load of furniture got his vehicle stuck in a narrow toll lane on the Golden Gate Bridge Tuesday morning, and despite closing some lanes of traffic to haul the truck out, the odd-looking sight did not cause major damage or injury.
California Highway Patrol Office Andrew Barclay said Donald Dayler of Cambridge, Ontario in Canada, was driving a combination truck-trailer southbound across the Golden Gate Bridge before 9 a.m., trying to get from Sonoma County to San Francisco. That's when he tried to get into the proper wide lane, but couldn't, he told officers, because there was too much traffic.
Instead, Daylor drove his truck through the No. 3 toll plaza lane, where he got stuck. Three lanes were shut down so a tow truck could pull Dayler's truck out, and other than a broken axle and some toll booth damage, no one was seriously hurt, Barclay said.
Dayler was not arrested, but Barclay did say that any financial payouts will have to be dealt with the Golden Gate Bridge district.
Source: NBC